Keeping up with expenses is never easy. That's why so many organizations fill out an entire department for accounting and bookkeeping. There's just so much to keep track of. You have payroll to meet, orders to secure and let's not even go into merchandising. Updating latest pricing is creating countless headaches for the bean counters who are constantly updating profit projections in keeping track with the bottom line. Consumers are also feeling the pinch of record-high inflation, and they have few reservations in voicing their concerns to frazzled employees working overtime to meet the surge in demand. While keeping track of every invoice is crucial to keeping the lights on and managing other overhead costs, there's one line item the accounting department never anticipates: fines. Unexpected civil and legal penalties can really add up over time, as they eat away at well-earned profit margins. And if you're a publicly traded company, you will also be forced to answer to shareholders, who're wondering, 'Why can't these guys keep it together and stay out of trouble?' Avoiding civil penalties by investing in stopgaps and safety measures can help your company reap future dividends.
What Happens When You Don't Follow the Rules of Proper Waste Disposal
Trash and hazardous waste byproducts are rarely given a second thought during manufacturing. And why should you? Superficially, once precursor products and building materials are used to artificially assemble the finished goods, their purpose is served and you can simply just toss them aside, right? Not exactly. Manufacturing isn't like the food industry or other industries where you can simply toss the waste into the recycling bin. Because most industries rely on potentially toxic precursors during the manufacturing process, such as rubbers, resins and pharmaceutical materials, special arrangements must be put in place to ensure proper disposal once the job is done. It's not like just tossing a banana peel in the trash when you're making a banana split.
One North Carolina trucking company learned a hard lesson about proper waste management after being slapped with $1.36 million in civil penalties. Old Dominion Freight Line allegedly disposed of hazardous waste in ordinary trash cans, along with illegally transporting hazardous waste without proper documentation. The laundry list of hazardous waste items included paint, electronics, batteries, flammable liquids, aerosols, and other toxic, as well as corrosive materials. Along with the fines, Old Dominion was also ordered to implement an improved hazardous waste compliance program.
U.S. Hazmat Storage Can Streamline Proper Waste Disposal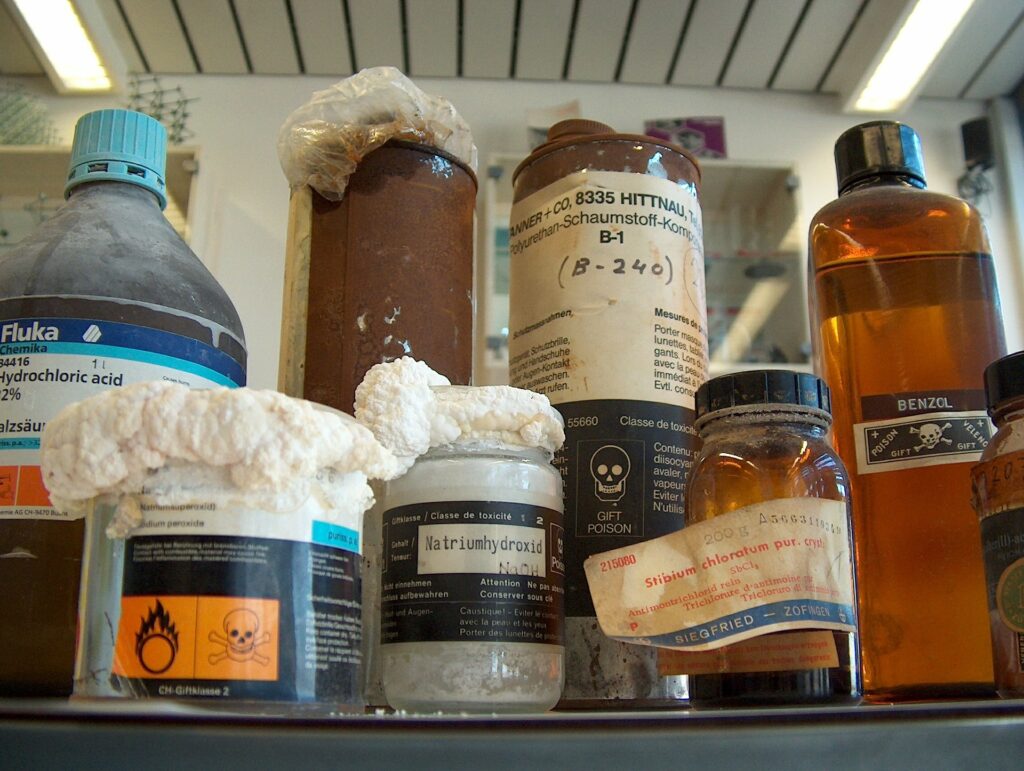 Understanding complex chemical jargon concerning regulations and proper storage is never easy. You might as well be trying to decipher ancient Egyptian hieroglyphics. Seriously, why does every piece of governmental bureaucracy be so bland and dry? Fortunately, you have a chemical translator at your disposal. Our experienced building advisors have more than 30 years of experience understanding chemical storage regulations. We can point you in the right direction by carefully evaluating your unique storage dilemma and presenting a variety of options to keep you compliant and off the government's radar. Our steel-welded storage lockers are the ideal stopgap for storing hazardous waste until a long-term solution or disposal company can be allocated.
Worried About Leaks? Steel Sump Containment System Prevents Environment Degradation, Avoiding Civil Penalties
Truthfully, very few companies or business intentionally pollute their natural environments. Catastrophic contamination as a result of a hazardous materials incident is almost always the result of oversight or accidental negligence. But make no mistake. Chemical incidents and spills are just as egregious and serious as those with malicious intent. Most chemical spills and accidents don't go off with a bang. It's usually the quiet mistakes that are the most deadly. Spills and leaks from hazardous waste drums and barrels can slowly, but devastatingly pollute nearby creeks and streams, sterilizing the ecosystem for decades to come. Our fire-rated hazardous material storage lockers can eliminate this potential threat. Each chemical storage warehouse is outfitted with an innovative spill sump containment system. In the event of a spill or leak, the hazardous material will simply pass through the steel grated flooring and be collected in a protective sump. The chemical will remain in the sump until it can be safely removed.