Fire-Rated Flammable Chemical Storage Buildings
Flammable storage buildings include our US Hazmat Storage FireSAFE-2FS™ which is two-hour fire rated and the US Hazmat Storage FireSAFE-4FS™ lockers which are four-hour fire-rated solutions. Professionally welded solid steel construction with a unique spill containment sump ensures every chemical storage locker provides safe and compliant storage of hazmat materials, flammable liquids, corrosives, and combustibles storage in drums, totes, pallets, or even small container storage.
Designed and engineered as fire-rated safety storage solutions, storage lockers allow your operations and plant management teams to work your storage requirements seamlessly into a multitude of workflow processes. From inside your existing operating facilities and workflows, to outside storage from within a 10′ permitter of existing structures. US Hazmat Storage can provide compliant storage for your needs.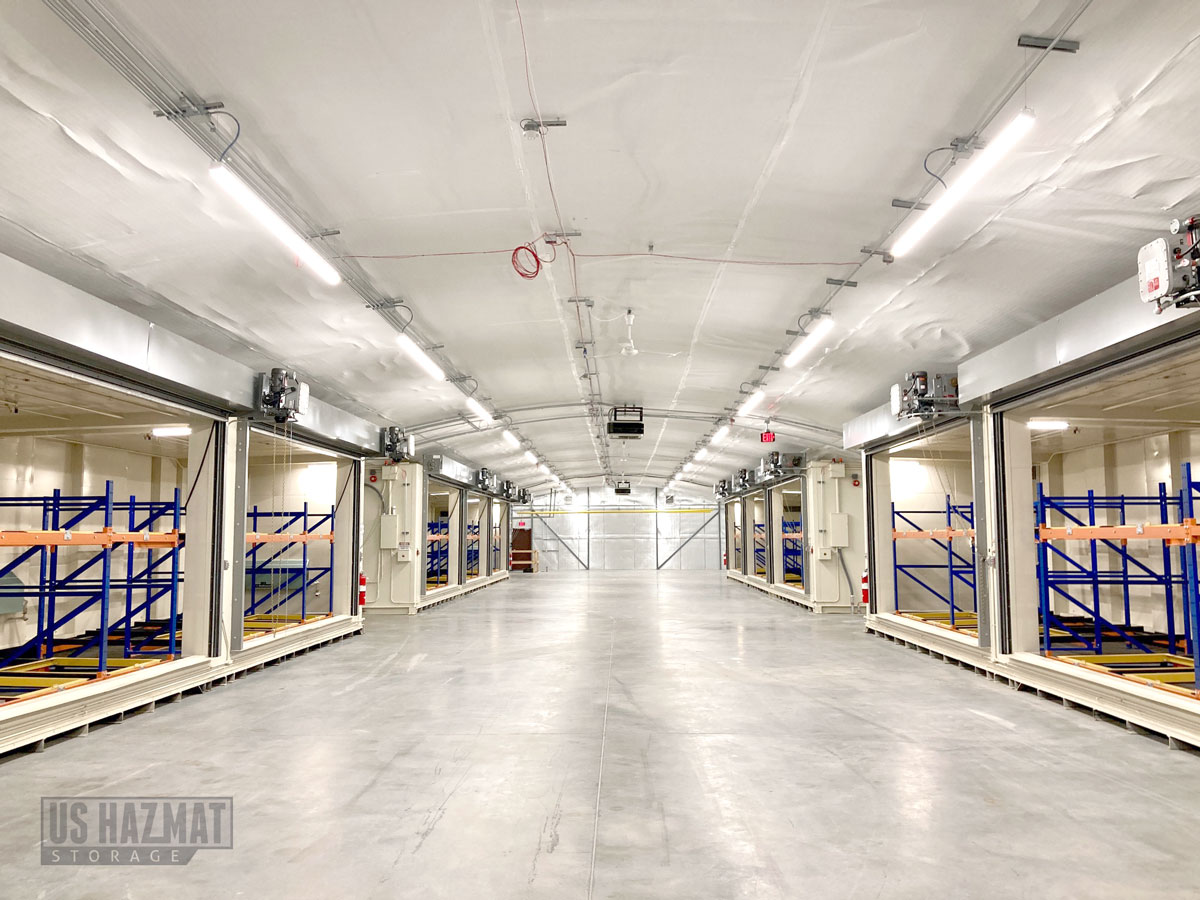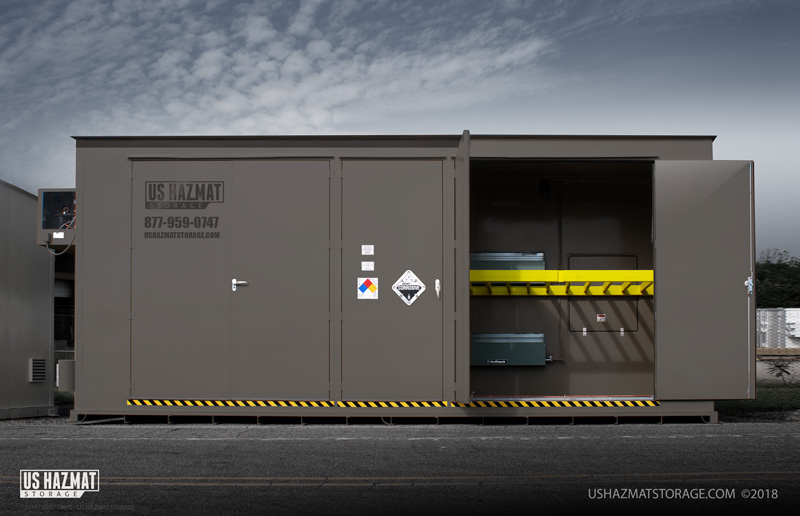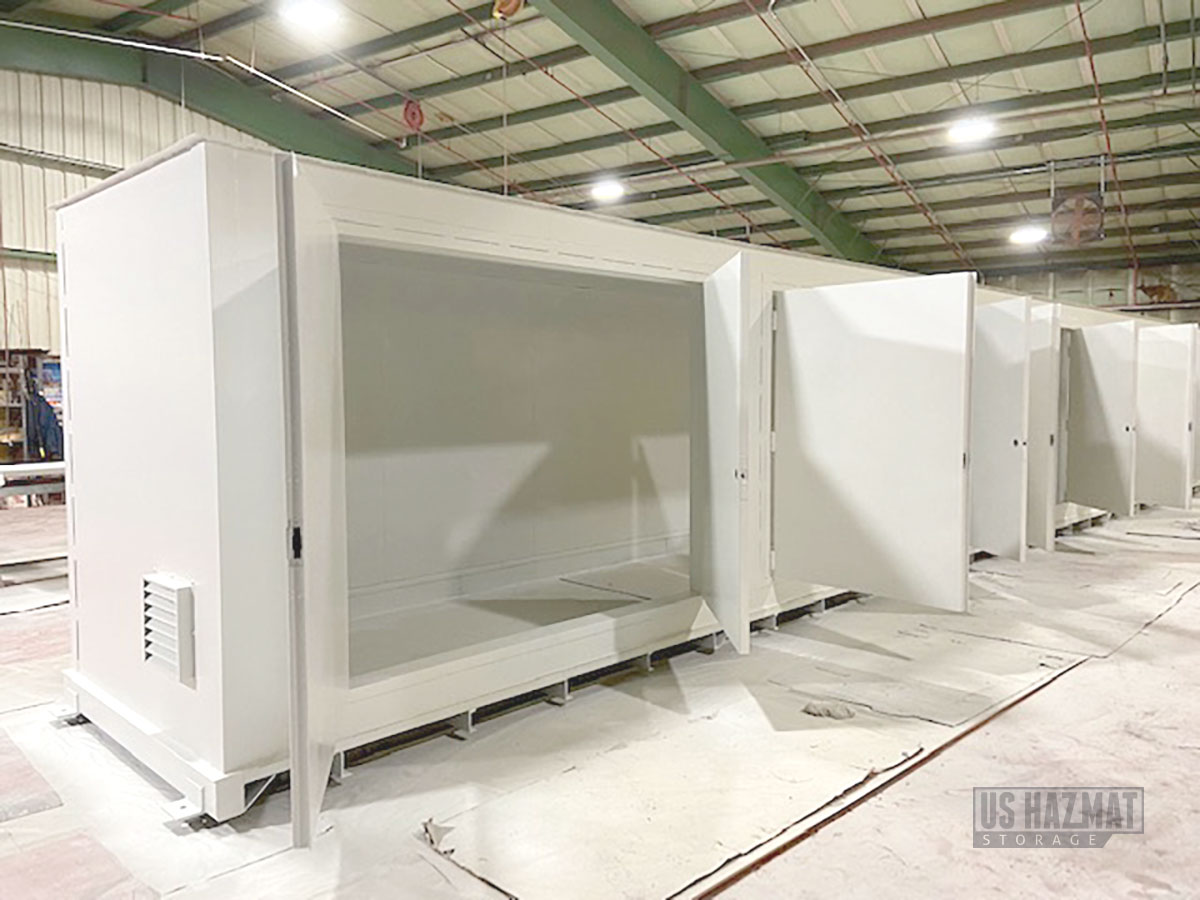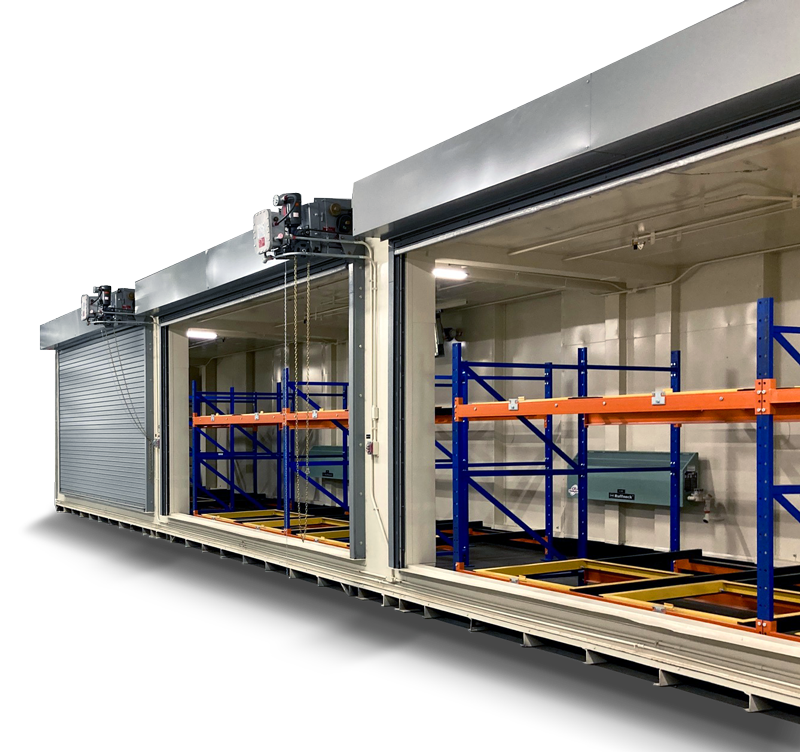 Flammable and combustible chemical storage with two-hour fire rating and explosive proof compliance.
Flammable and combustible chemical storage required for four-hour fire rating and explosive proof compliance.
Combustible Material Flammable Storage Buildings
Safe and Secure Flammable Chemical Storage Buildings
Our custom engineering can improve operations within your workflow or in close proximity to existing structures improving your operating efficiencies. US Hazmat Storage chemical storage lockers offer Class 1A Flammable Chemical Storage and are compliant with mixing of Class 1B Flammable Chemicals. Discuss your needs today with a risk management advisors who can help find the best storage solution for your needs. Secure your operations, improve worker safety, and decrease corporate liability with proper spill containment, fire protection, and explosion resistant storage of your hazardous materials.
SAFETY AND SECURITY ARE OUR TOP PRIORITY
SAFETY AND SECURITY ARE OUR TOP PRIORITY
A US Hazmat Storage Compliance Officer and Risk Manager will work directly with your process engineers, facility managers, and operations officials to customize a chemical storage building to meet your specific needs. From hazardous material processing, mixing & dispensing, and flammable material storage to storm safety and tornado shelters. We will meet your project specifications and exceed your expectations. From storage, repair and maintenance, and construction, to mixing and dispensing applications, each solution is engineered for full compliance. Our solutions are backed by an industry-leading 20-year warranty from a company with over 40 years of steel fabrication and manufacturing experience that is privately owned and operated in the USA.
Specs
Click below for complete details and compliance regulations our chemical storage buildings meet as well as details about available hazardous material storage and explosion proof accessories. We will fully customize solutions to meet your needs. Contact us for details today.
Customizable for any process, workflow, and storage need
Quality steel locker with corrosion coat protection construction
Complete performance includes custom engineering, construction, transportation, and on-site construction for turn-key installation
Temperature control climate regulating accessories available
Liquid level and liquid spill detectors
Lighting and Electrical accessories available
Air turnover compliance mechanical ventilation
Hazardous gas monitors and alarms
Explosion-resistant accessories and construction available
Explosion-Relief Panels available
Heating, Air, and Refrigeration control
EPA-compliant spill containment
Class 1A flammable chemical storage compliant
Class 1B flammable chemical mixing compliant
20-Year structural warranty
FireSafe Hazmat Storage Buildings
Optional two-hour and four-hour configurations in 10′, 20′, 30′ and 40′ sizes.
When a Fire-Rated System is not necessary, we have a simple containment system that is not fire-rated. You can deploy these buildings in your operation to ensure storage compliance. These storage systems will maintain EPA and OSHA compliance with easy-access tote and pallet storage for materials needing secondary spill containment and security. Our Non Fire-Rated storage can contain materials that can be stored without fire-rated containment, while still providing simple material handling with forklift for bulk storage in your workflow processes.
Why Choose US Hazmat Storage?
Contact us today to discuss your Safety Storage, Hazmat Compliance, Storm Shelter, and Risk Management needs. We offer professional industrial grade solutions to meet your safety needs.