8′ x 30′ FireSafe Hazmat Storage Building
Optional two hour and four hour configuration with explosion resistant design and components for optimum storage for flammable hazardous material.
Dimensions:
Interior – 28'0″x 6'0″x 7'6″ *
Exterior – 29'4″x 7'4″x 9'4″ *
Storage Capacity (55 Gallon Drums) – 42
* Accessories may increase dimensions.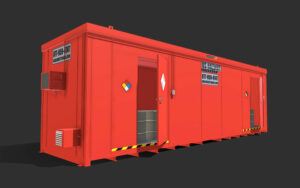 Most flammable chemical storage buildings come equipped with:
Explosion-Proof Light

Explosion-Proof Mechanical Exhaust Fan

Dry Chemical Fire Suppression System

Explosion Relief Panel

Premium 12-Gauge Steel Construction

Heavy Duty Lock Security

A Built-In Sump Chemical Spill Containment

Drum Storage Capacity Options: 12, 27, 42, or 57 barrels

Movable by heavy forklift

Crane Lifting Lugs

Steel Access Ramp
Also Available:
Tote storage with roll-up garage doors.
Customized Tote and Palletized Material storage with easy-access roll-up garage doors. These 100% compliant and customizable chemical storage buildings will multiply your hazardous material storage capacity.