Not all steel protection is created equal. The sad reality that inferior products are more prone to structural failure when you need them the most is a recurring theme in modern industry. Quality engineering is also a lost art. Steel welded storage is becoming obsolete, as more and more engineers are trying to eliminate costly overhead by procuring cheaper, yet weaker chemical lockers.
How many times have you turned on the local news to discover that yet another neighborhood has been evacuated due to a chemical incident that was the result of negligence of faulty materials? Negligence is almost always the culprit or accomplice in such hazardous material incidents. While some accidents are unavoidable, securing a steel-welded chemical storage building and following proper protocol set in place by OSHA and the EPA can mitigate the bulk of potential threats and hazards.
U.S. Hazmat Storage chemical lockers can prevent spills and contamination
Many plant and project managers believe that by simply purchasing a hazardous materials storage locker, they have eliminated any potential threat to the jobsite. Unfortunately, these overzealous and misinformed operators have ignored several key components to proper storage. Securing insufficient protection from inferior lockers is almost certain to end in calamity. The abstract perils of improper storage became a sobering reality for an Iowa food processing plant that was evacuated when an employee discovered vapor leaking from a chemical storage building.

A plastic tote containing a chemical marketed under the name Inspexx, produced by Ecolab Co., appeared to be the source of the vapor leak. The vapors appeared to be drifting toward empty turkey sheds west of the plant, and potentially toward apartment buildings on Short and Iowa Streets nearby. Those apartments were evacuated for around 20 minutes.

Channel 9 KCRG News
Don't rely on luck to prevent costly penalties; invest in chemical storage building from U.S. Hazmat Storage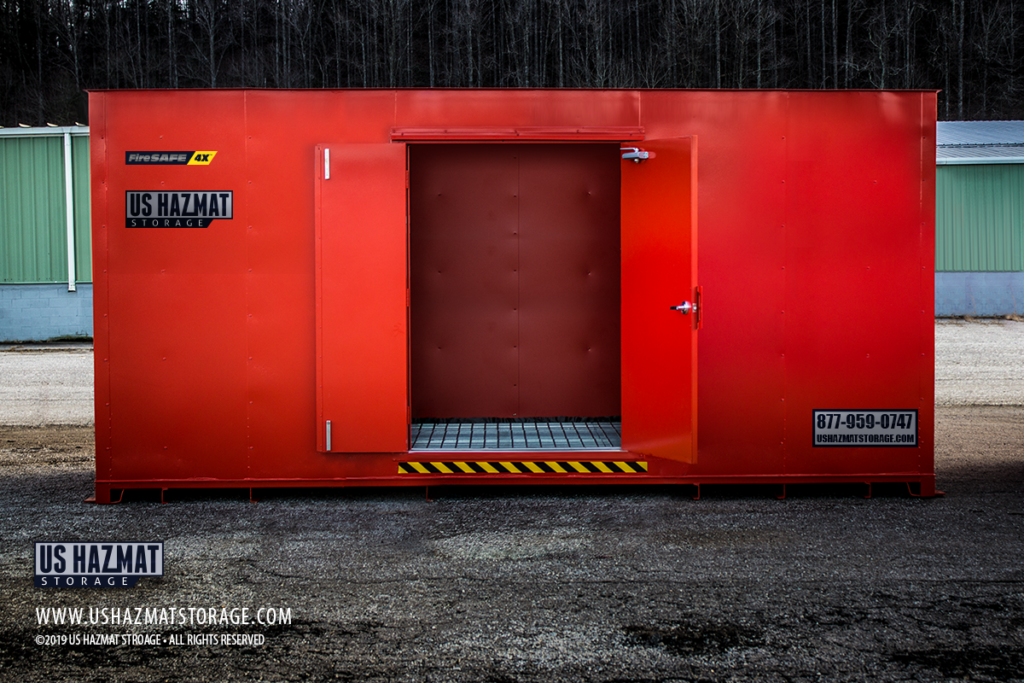 Fortunately, there no were reported injuries and the residents that lived in proximity of the plant were able to return to their homes in less than an hour. A second chemical tote container was brought on-site to store the faulty chemical storage building. While it would be conjecture to assume negligence by plant operators as the source of the chemical mishap, we are confident the plant's safety engineer is currently reevaluating the supplier of the chemical storage buildings.
U.S. Hazmat Storage lockers are built to withstand the test of time and in hostile working conditions. Steel welded jointed lockers are more efficient and cost-effective than riveted joints, so you can rest assured knowing that dangerous chemicals can't seep into the surrounding environment from the storage lockers. Our storage lockers also offer unique shelving and compartmentalization options that ensures that dangerous chemicals can't interact with one another. Fire-rated steel paneling ensures that these lockers can withstand a blistering inferno for up to four hours, giving fire fighters more than enough time to contain the dangerous blaze and prevent further damage from dangerous chemicals.
Innovative spill containment sump shores chances for chemical mishaps in hazardous material storage buildings
In regard to the Iowa manufacturing fiasco, we can't help but wonder if an integrated spill sump containment system, such as the one offered from U.S. Hazmat Storage, could've prevented the leak and isolated it at its source. With every U.S. Hazmat Storage building, you have the option of including a grated floor sump that can safely collect material if a chemical spill was to occur.