US Hazmat Storage is shooting for the stars.
With all sights now set on the moon, and beyond, the private sector is teaming up with NASA to fulfill humanity's promise of landing on Mars in the near celestial future. So, how does chemical storage factor into these precise astronomical calculations? Four of our vaunted chemical storage buildings designed for flammable storage, OSHA, NFPA, and EPA compliance were recently delivered to the Kennedy Space Center at Cape Canaveral Florida. That's right. There's no need to reread the previous sentence even if you were skimming for just the highlights. Our US Hazmat Storage lockers were delivered just feet away from NASA's Artemis launchpad, which is the nexus of the upcoming moon mission and beyond. Our chemical storage locker will house oils, lubricants, and powerful degreasers to service the rocket Crawlers that move the rockets from the assembly building to the launchpad. Flammable lubricant storage and proper hazardous materials storage has significantly grown in demand in both the aerospace and aviation industries.
To Infinity Compliance and Beyond With Safe Flammable Storage!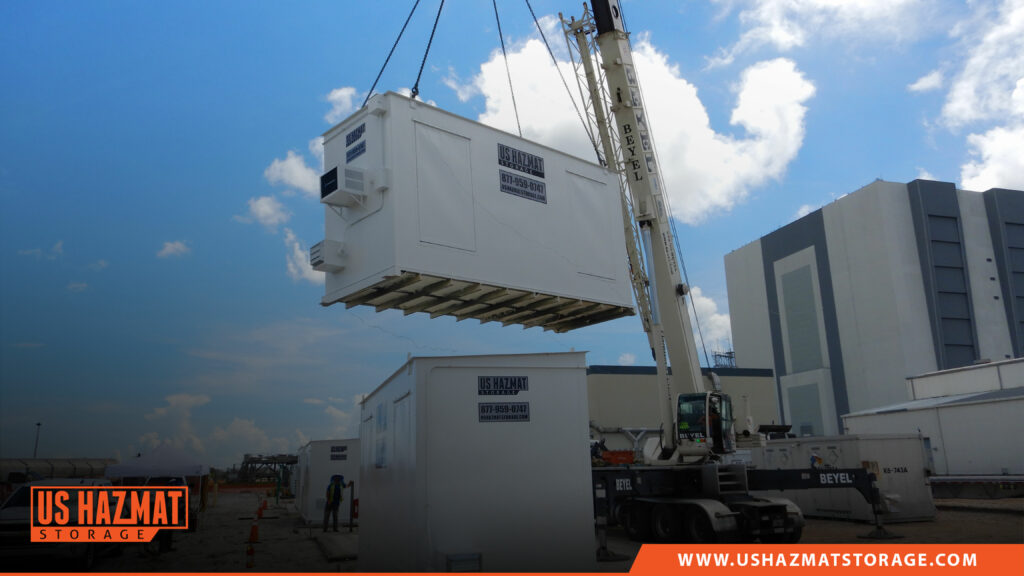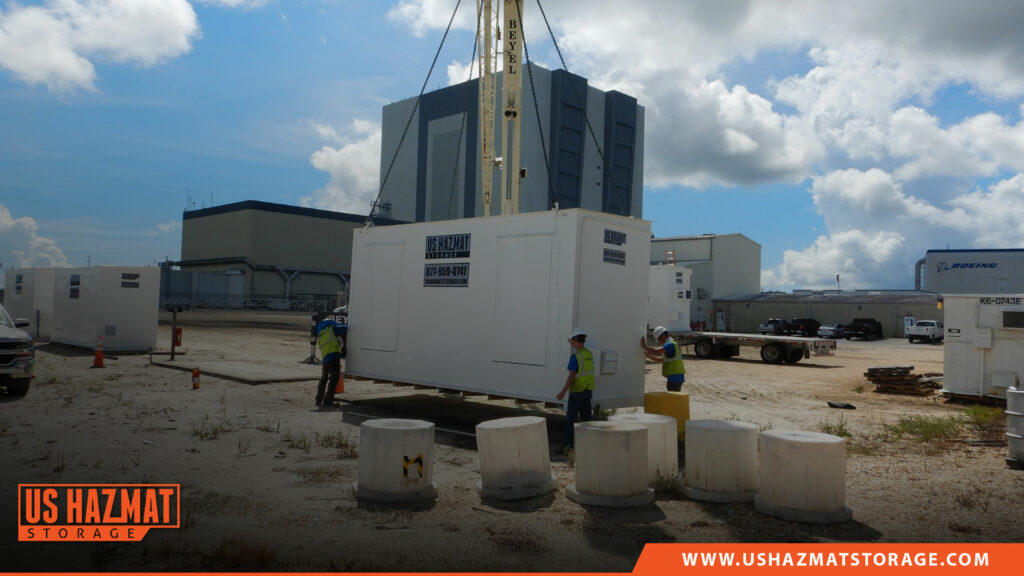 NASA isn't our first major Blockbuster. We've serviced and met the chemical storage and environmental safety compliance needs of Fortune 500 companies across most all industries. Some of our recent work includes Tesla, Space X, and Blue Orion space technology companies. However our solutions scale to meet the needs of all businesses. From private breweries, bakeries, food producers, and small manufacturing operations to commercial paint storage and mixing, repair and maintenance operations, and household hazardous waste management. And as for government contracts, we've partnered with Uncle Sam to meet the surging demands of our nation's armed forces on multiple occasions. So, when NASA and its ancillaries, including Boeing, contacted us about providing storage to service the ginormous rocket Crawlers, we could easily assure them of the precedent in place to fulfill such a mammoth undertaking. In total, NASA purchased four chemical storage lockers to service two rocket Crawlers. The Crawlers will carry the Space Launch System rocket and the Orion spacecraft for the upcoming Artemis missions. As the next steps in the program's long-dormant lunar exploration program, Artemis will land the first woman and the first person of color on the lunar surface, paving the way for a long-term lunar presence and serving as a stepping stone on the way to Mars. We're excited that our Lubricant and Flammable Storage solutions could be a part of that journey!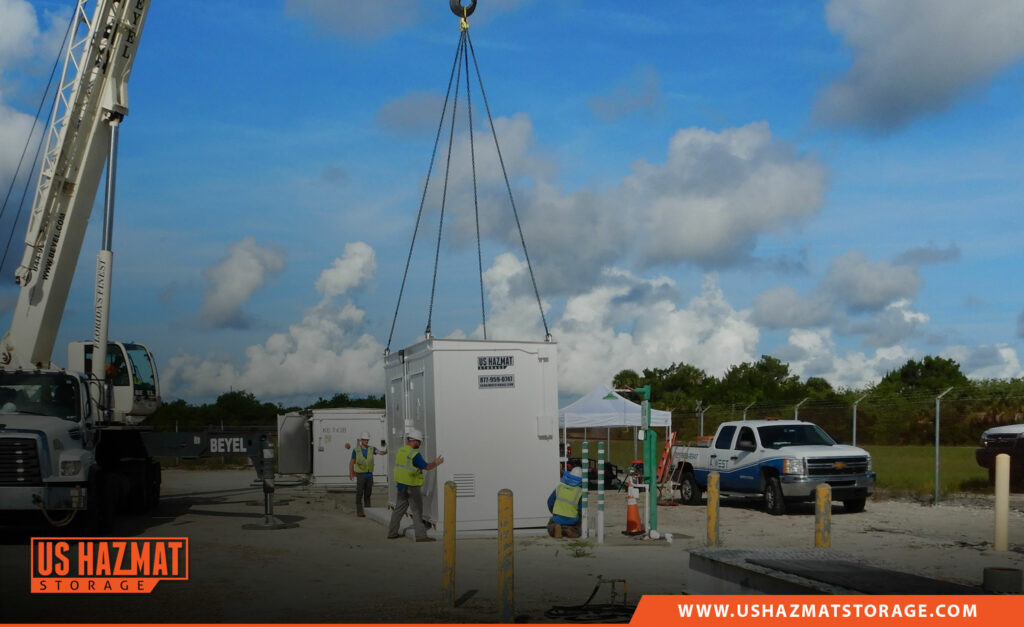 If We Can Meet The Tremendous Demands of Our Nation's Space Program, We Can Surpass Your Expectations of Compliant, Safe and Ecologically Friendly Storage
Jetting to Affordable Protection While 'Crawling' Toward History
Can we take a moment to appreciate the true scale of the NASA space program and what it took to put a man on the moon 50 years ago? More than 400,000 men and women were involved in the Apollo space program. We expect similar figures in the budding Artemis program that will propel humanity to the final frontier of exploration: space. While most of the glamor of the program is garnered by the crew and rockets themselves, many people overlook the unprecedented support system needed to get the rockets off the ground. The Crawlers are perhaps the quietest of these unsung heroes. The Crawlers must be able to support more 4.5 million pounds of weight under the Artemis rocket and capsule with the ability to haul 18 million pounds, which is more weight than anyone without a degree in engineering could possibly fathom.
US Hazmat Storage Helps Take Humanity Back To The Moon And Beyond. Our Chemical Storage Building Now Help Support The Mission Critical NASA Crawlers. So What Is A Crawler?
Don't let the Crawler's speed statistics fool you. While the space Crawlers can only move at 1-2 miles per hour, they are pretty much moving at lightning speed when considering the scope of the leaps and bounds NASA is back to make in the next few years. Such scorching heat and weight requirements require a king's ransom of oil and lubricants to support the hydraulic platforms and help keep diesel engine maintained and refurbished. Here is where US Hazmat Storage joins mission control in keeping the program rolling into the future. Our flammable safe chemical storage buildings can store large quantities of lubricants and degreasers to service the Crawler systems for decades to come. No matter your need, from fire-rated oils and lubricant storage, paints, or solvent storage, to flavorants, virgin chemicals, lithium-ion batteries, or most any other hazardous material, we can help. Our experienced building advisors can you advise you of the most compliant, and cost-effective options at your disposal. All our hazardous storage buildings are designed, engineered and manufactured to EPA, OSHA, and NFPA standards to ensure full compliance for your active inventory or hazardous wastes throughout your workflow processes.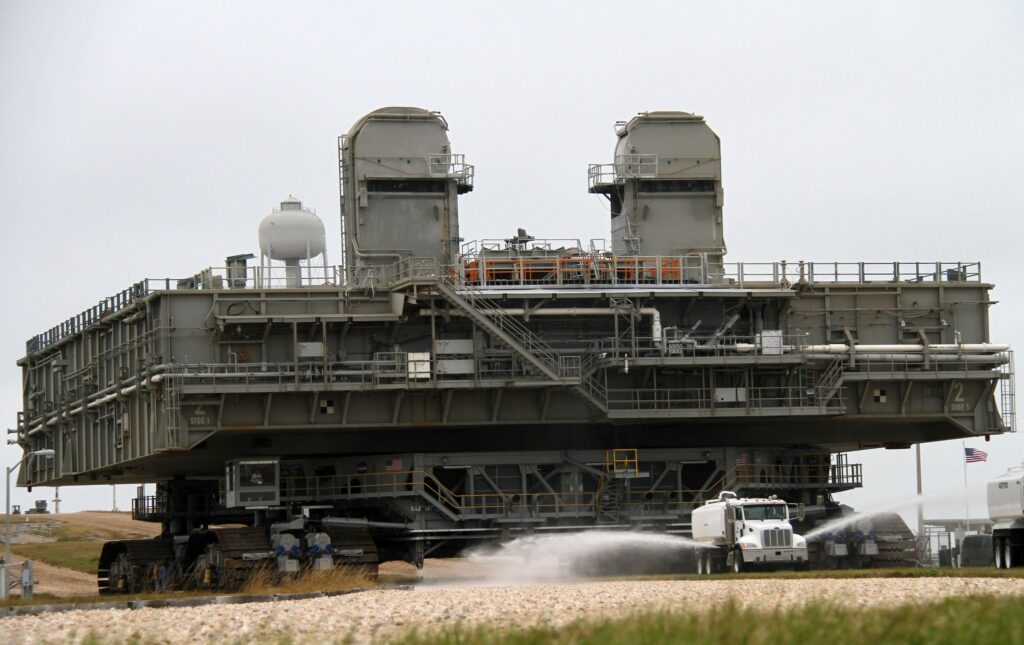 Just a Few of Our Esteemed Partnerships