Dangerous chemicals aren't discriminatory. They can strike any occupational setting that isn't properly secured. No one is immune to volatile explosions and toxic exposures when the proper storage of these chemicals is ignored.
In the haste of streamlining operations and maximizing efficiency, hazardous materials are thrown to the wayside or left unaccounted for. You don't need a degree in chemical engineering to understand how the chemical equation of negligence + toxic substances can yield a catastrophic hazmat incident.
Spill sump containment completes total site protection
At U.S. Hazmat Storage, we neutralized potential catalysts with climate controlled storage options and isolate accelerants and other volatile chemicals, so they don't reach critical mass. In the event that spills do happen, our steel welded storage lockers are also equipped with a grated floor spill containment sump that can sop up these dangerous chemicals and prevent further exposure to employees and the environment.
Superior steel protection for flammable chemicals
Flammability is also a atop concern when dealing with hazardous materials. Each chemical has a time and place with a company's workflow or process. Once an item is utilized, however, it should be returned to a steel-welded quarantine until further use is required.
Explosion proof paneling and industry-leading safety features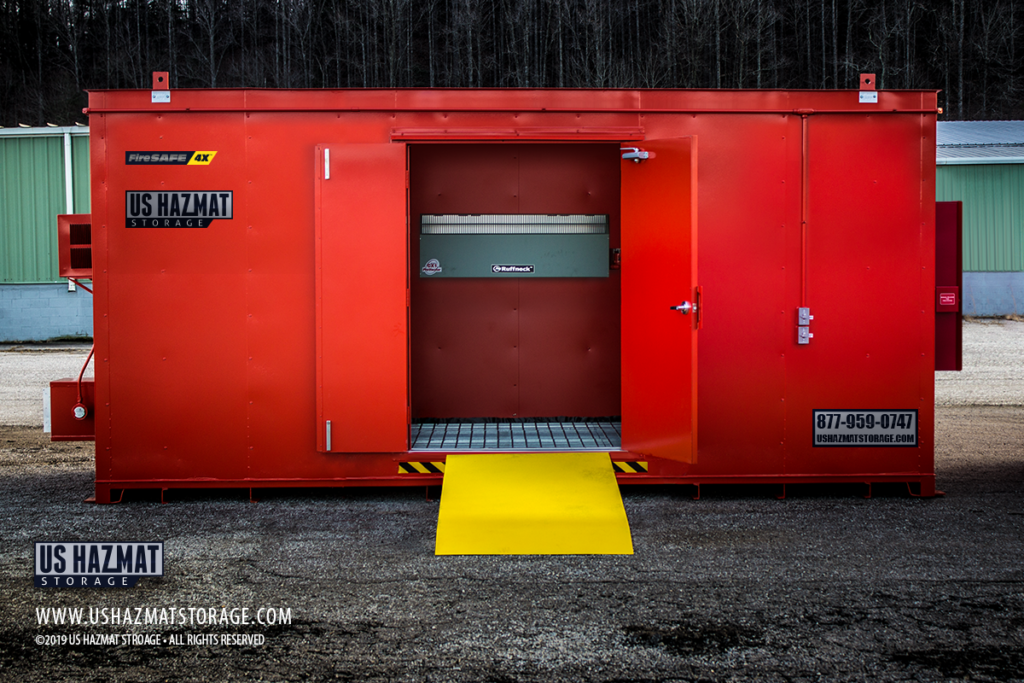 We take no chances when it comes to outfitting our steel chemical storage lockers with the top-of-the-line safeguards. Our steel explosion proof paneling provides complete protection inside-out. Internal fire and explosion proof lighting and ventilation creates an environment conducive to proper and safe chemical storage. Accidents are limited and their effects are mitigated with superior steel protection from U.S. Hazmat Storage.
Trust the U.S. Hazmat Storage experts
Understanding chemical classification is a tedious and time-consuming process. Copious amounts of technical jargon and terminology of how to properly store chemicals and which substances can be stored together can bog down any workforce.
We understand that as a job foreman, you don't have the time necessary to learn all the chemical classifications. While it's imperative that you know difference between flammable and non-flammable classifications, understanding the physical properties of each individual chemical compound become mind-numbingly frustrating.
Our fortitude and industry knowledge is as strong as the steel we represent
Fortunately, a U.S. Hazmat Storage building and safety adviser can answer all your questions and address your concerns. Based on your workflow constraints and storage needs, they can guide you to the right unit for the job and will never sale you something that you don't need.
Request a free quote
We don't believe in high-pressure sale tactics. We are not a car dealership or department store. We let our customers identify their needs via online survey and we then match your concerns with the appropriate storage locker. You can contact us today to ascertain your needs and to request a free quote!