Have Flammable Storage Compliance Needs? So did Bakkavor USA, here's how we can help…
It all began with a simple Google search. Bakkavor USA, a leading worldwide provider of fresh food, was looking for a flammable storage solution for their bulk quantity cooking oils. Food extracts, essential oils, cooking oils, and flavorants can be flammable material and pose a hazard when stored in high volume. Bakkavor's food processing oils require flammable and combustible liquid storage for compliance and use onsite in food processing facilities. A company-wide insurance inspection of the Jessup, PA facility revealed a fire-hazard liability the company needed to resolve. Bakkavor took action and pursued compliant fire-rated storage to meet the demands of their workflow processes and cooking oil storage needs. With a few quick keystrokes and a phone call, the company was put in touch with U.S. Hazmat Storage. Serendipity, they had found the ideal manufacturer to provide the quality fire-rated flammable storage building to meet their OSHA, EPA, and NFPA compliance storage needs.

Bakkavor USA – Fresh Prepared Foods
Corporate Responsibility, Sustainability, & Wellbeing.
Our experienced hazardous storage advisors can quickly evaluate your needs and deliver optimal storage options for your diverse workflow processes.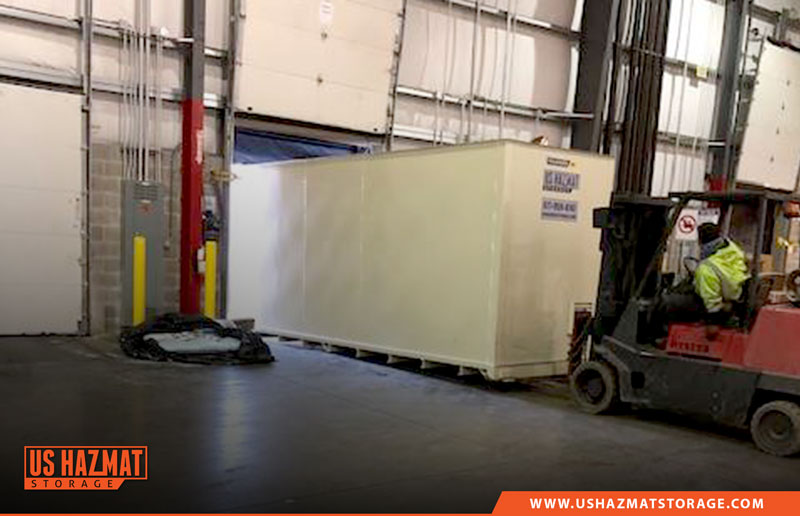 For Bakkavor USA, the lead-up to the decision to obtain a flammable storage building involved research, analysis of their facility, storage, processes, and consultation with their local Authority Having Jurisdiction (AHJ). Due to the stringent nature of OSHA and EPA safety guidelines, and NFPA fire-safety regulations, the food producer was selective in choosing the appropriate storage provider. If they skimped on protection now, they could pay for it indefinitely if a catastrophic fire or other incident were to occur. U.S. Hazmat Storage was able to quickly meet their needs and deliver a compliant solution for their manufacturing process facility.
Upon finding different companies that manufactured large hazardous chemical and flammable storage cabinets, I began making phone calls. It was immediately apparent after speaking with Lesley at US Hazmat, that I had found the right company to provide us what we needed. The flammable storage cabinet that was needed was a custom-build due to the limitations of transporting the unit into the building.

Shannon Baker, East Coast Maintenance Manager at Bakkavor USA
Flammable storage cabinets can be custom-built to meet your specific onsite requirements
Like any industrial grade manufacturer, the quality food provider's storage needs are unique as are the product they sell. The true scope of the project came into view with the dimensional requirements of the flammable storage cabinet. Bakkavor indicated the locker needed to be able to accommodate forklift accessible pallets. They needed to manage palletized five-gallon pails of Canola Oils.
Bakkavor USA also needed to acquire storage capable of handling pallets with approximately 300 gallons each, with a material flashpoint of 540 degrees. This was quite the order with the bulk quantities necessary to manage. Nothing unusual for a U.S. Hazmat Storage flammable storage building. Every day, we work closely with prospective clients to ensure we fabricate a chemical storage building that can meet the demands and needs of their industry. Each is unique to their material storage, facilities and operations.
Working through some design challenges and space limitations, the final design was completed and signed off. Throughout the process, communications as to the fabrication status of the unit were consistent as to keeping me informed of the progress. It was obvious that US Hazmat took pride in their work as pictures were emailed out through the process. Upon completion, the unit looked amazing and extremely well built.

Shannon Baker.
With this particular order, U.S. Hazmat Storage was able to design and fabricate a large flammable storage cabinet with several double leaf doors to accommodate the company's storage needs.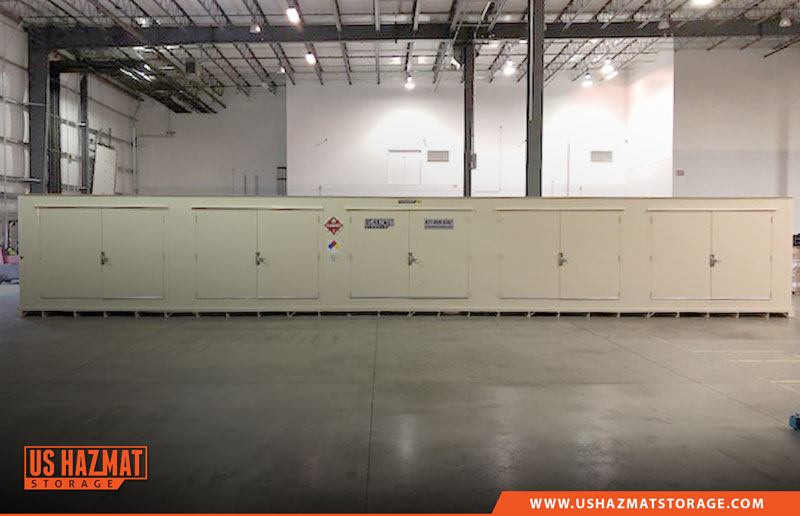 Meeting the demands of an ever-changing workforce
We know that no two job sites and industries are the same. What would work for one company in terms of adequate storage would not work for another. Some companies that handle flammable and volatile substances will need fire-rated protection. And depending on how close their fire-rated storage building is to vulnerable assets, we can recommend the appropriate level of protection. U.S. Hazmat Storage works hard to ensure each product meets the exact specifications of customers and their compliance needs. We work with each client and their local Authority Having Jurisdiction (AHJ) to ensure compliance while maintaining a budget. We will never try to over-build or overcharge for unnecessary features or accessories that don't benefit your storage needs and desired workflow processes. Yet we will ensure we deliver a quality solution to your hazardous storage need.
Fire suppression and climate control options for chemical warehouses and lockers
Knowing that our facility is protected by US Hazmat's flammable storage cabinet has been well worth the efforts by all involved with the project. Thank You goes out to all of the ones at US Hazmat that made this project successful. I look forward to working with you on future projects.

Shannon Baker
Our large volume chemical storage building are more than just a fire-rated building. Yes. They can keep your company compliant and off OSHA's radar. But they can also give your workforce peace of mind. In the event of a spill, each locker's floor sump system can safely collect the chemical as it passes through the heavy steel grate. The leaked chemicals will then remain in the floor's spill containment sump beneath the 1″ industrial-grade steel grated flooring until it can be safely removed. These systems are designed to protect your workers, your facility, and your inventory.
Engineered For Chemical Storage and Flammable Material Storage Compliance
With fire-rated engineering and high-quality construction standards, our flammable storage buildings are designed to contain a fire for up to four hours pending your storage requirement needs. The walls of our chemical storage buildings and components are designed to the latest Underwriter's Laboratory (UL) standards. Every U.S. Hazmat Storage building is designed throughout to meet or exceed National Fire Protection Association (NFPA) compliance standards, and engineered to safe to workers with United States Department of Labor Occupational Safety and Health Administration (OSHA) compliance, and safe to the environment with full compliance with the United States Environmental Protection Agency (EPA).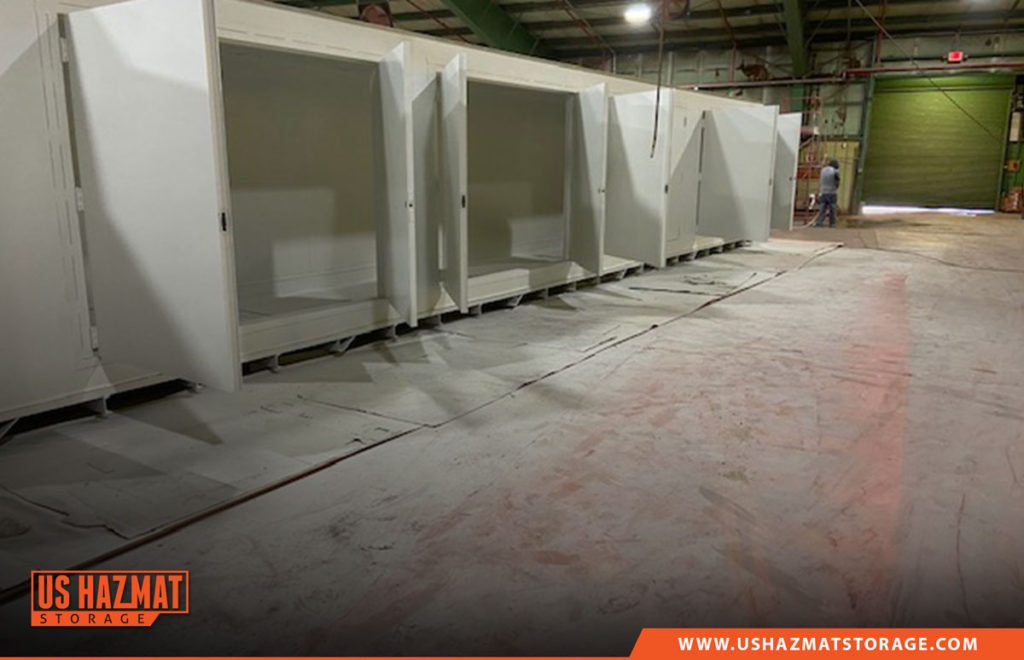 Advanced heating and cooling climate control and mechanical ventilation are also available as needed. These features allow you to store chemicals and flammable materials in a temperature-controlled environment safely, so the consistency of chemicals remains unchanged due to excessive heat or cold from the external environment. Proper ventilation ensures safety for your workforce accessing the unit and is designed to provide an adequate turnover of fresh air inside the unit. This can also prevent the build-up of combustible vapors and dust some material may off-gas during storage or any internal mixing and dispensing processes. A dry chemical fire suppression system with an automated remote actuator is a must. This system is designed to ensure a fire is extinguished promptly before the fire can escape the storage unit. Each of our flammable storage budlings are fitted with adequate full-coverage fire suppression designed to meet the storage needs intended to extinguish flames the moment they occur. These safety provisions can not only save costly facility damage but can also save lives in the event of a fire.