A common euphemism still prevails today: the only things in life that are certain are death and taxes. But given the propensity of chemicals to misbehave if not properly stored, we would like to suggest a slight edit. If you don't respect hazardous materials and resort to flimsy storage methods, disaster is imminent.
Oddly enough, these two wise remarks were set on an odd collision course earlier this month that would've provided perfect plot fodder for the Twilight Zone. Firefighters were rushed to the scene of the IRS building in Washington, D.C. to investigate overheated storage batteries used for backup purposes.
"No injuries reported," they added. "Building fully evacuated due to abundance of caution due to possible fumes associated with this issue."
Don't go shredding your W2's just yet. No damage was rendered to the IRS building or vital storage servers as the result of the smoldering batteries. In other words, your taxes are still due this upcoming April. Fortunately, firefighters and hazmat personnel were able to contain the energy cells before a fire erupted.
There's no additional information as to what prompted the call to firefighters, but it does illustrate an important point: batteries and other energy cells require the upmost respect when it comes to proper storage. Like so many other dangerous chemicals and substances, these hazardous materials have a way of letting you know if proper protocol is not followed in ascertaining adequate storage.
Battery fires are a serious matter. Every year, firefighters must contend with blazes from these volatile energy cells. In April, four firefighters were hospitalized with serious injuries while responding to a battery fire in Surprise, Ariz.
Call U.S. Hazmat Storage to prevent the unthinkable when storing flammable materials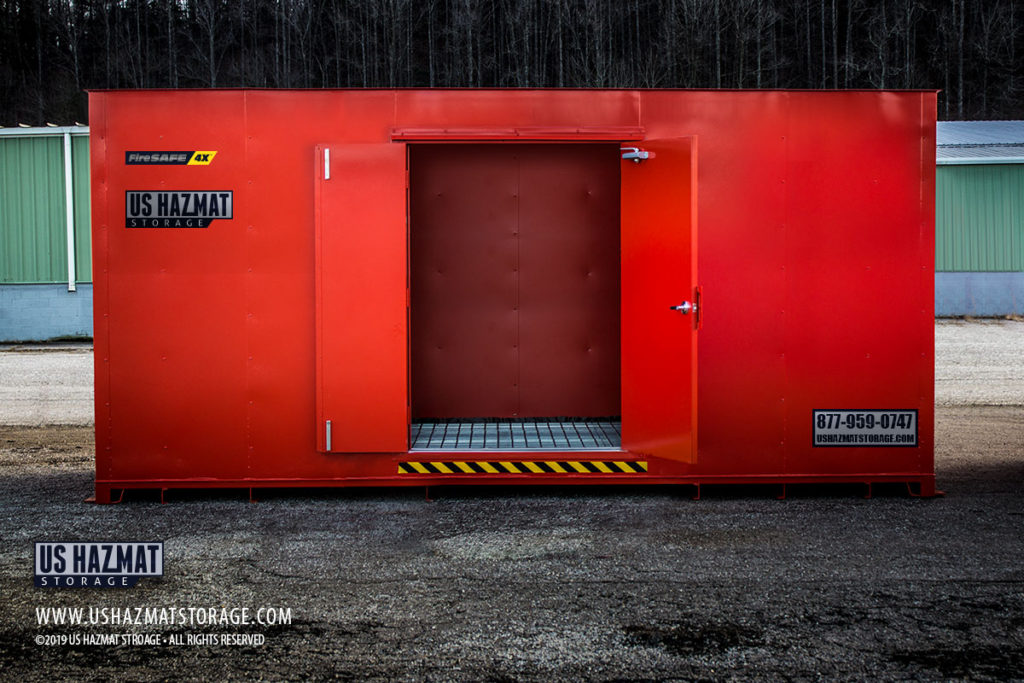 To prevent similar disasters, improve worker and facility safety, companies and general contractors should consult U.S. Hazmat Storage to ensure safety and abidance by local, state, as well as federal regulations. Our fire-rated flammable chemical storage buildings offer optimal safety and storage of flammable liquids, corrosives and other hazardous materials, including commercial battery storage and their chemical components.
Depending on your work site needs, our flammable chemical storage buildings are available in two-hour and four-hour fire rate protection. Regardless of the job's conditions, our storage solutions allow operations to work your storage requirements seamlessly into any work site. Temperature and climate-controlled storage can also accommodate a variety of storage needs. Whether you're storing Lithium-ion (Li-ion), Nickel Cadmium (Ni-Cd), Nickel-Metal Hydride (Ni-MH), or Lead-Acid batteries, flammable material storage compliance along with climate controlled storage is a necessity to ensure workplace safety and to protect your company's investments.
How Hazmat Storage can meet changing needs of hazardous chemical storage
Securing adequate storage for energy cells – whether its batteries for electric cars or smaller units dedicated to "going green" – will likely be a pressing concern -as popularity for alternative energies continues to rise. An article in Scientific American has drawn new attention on the challenges purveyors of alternative energy will face in the future. The electric car trend and ancillary storage facilities have sparked further safety concerns in the industry. How can the industry meet the growing demands of customers in an environmentally safe manner? At U.S Hazmat Storage, we believe we have those answers.