Warehouses play an integral role to supply chain management and order fulfillment. Working in conjunction with the production line, warehouses ensure raw materials can be easily made available for product completion. As daily production ramps up, hazmat warehouse storage provides easy access to chemicals used in ancillary operations, including machine maintenance and site clean-up. By freeing up the factory floor of burdensome but necessary chemical components, companies can ensure their stockpiles remain topped off and their operating accounts flushed with new cash flow. Clutter and disorganization will always be precursors to disaster. Proper hazmat warehouse storage will help grease the wheels of progress at any production facility.
Hazmat Warehouse Storage is More Than Inventory Protection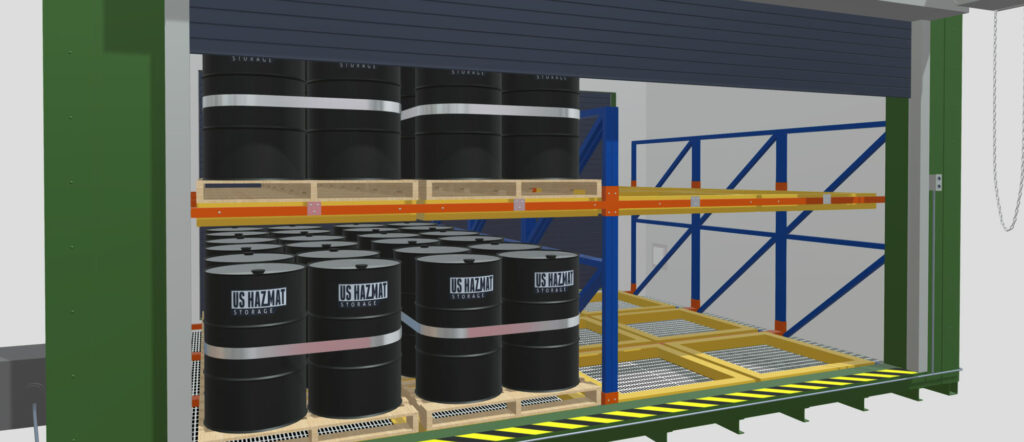 Factories can be cities within themselves. Proper chemical segregation allows for streamlined production that doesn't rely on interruptions as you wait for more necessary chemicals to arrive onsite. But hazmat warehouse storage offers more than just convenience during the daily grind. Compliant storage is also a buffer zone against accidents, fires and injuries. On Tuesday, fire officials worked quickly to extinguish a fire at a Waymo warehouse and later found a self-driving vehicle inside the facility. When authorities remain stumped as to the exact cause of the fire, we can safely assume that large stockpiles of electric batteries were onsite. An increasing number of car manufacturers will continue the electric revolution as one-in-five cars will likely rely on electric propulsion in the coming years. Our chemical storage lockers can provide fire-rated protection for batteries and other volatile chemicals.
Fire-Rate Chemical Storage for Batteries and Flammable Materials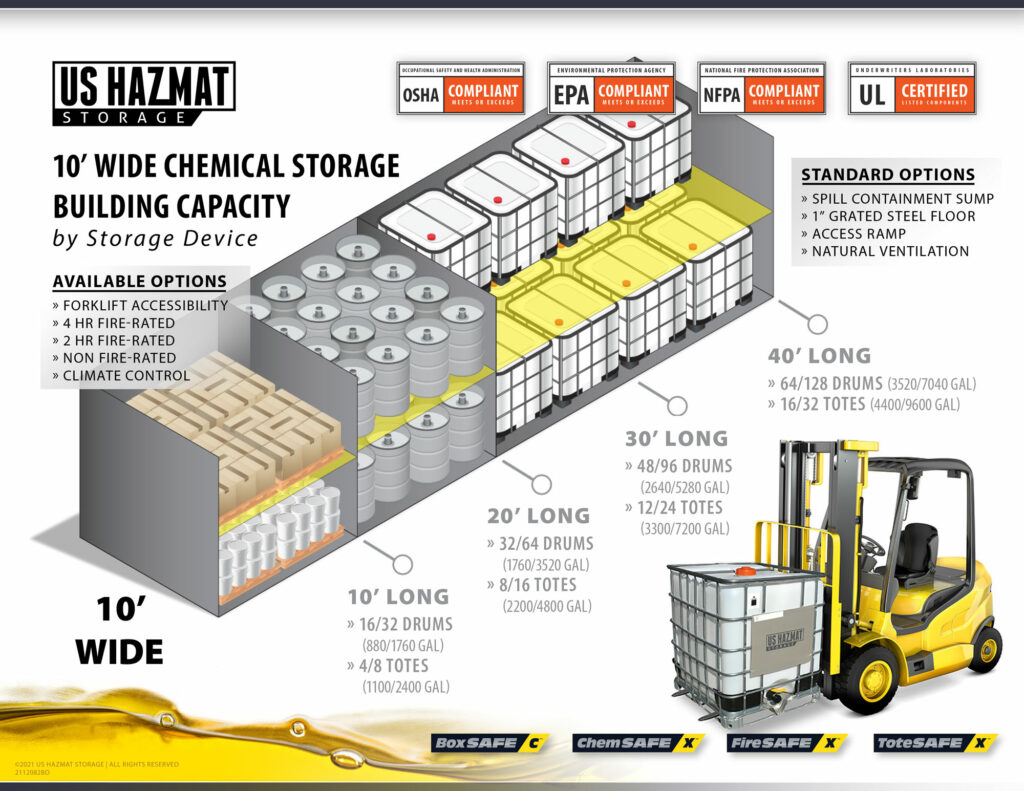 Who says you need thousands of square feet of open space for proper chemical warehouse storage? Even the most zealous of companies only use a fraction of their warehouse's floor space. But you can't heat or light-up only a fraction of the overall facility as the immense draftiness of the entire warehouse will quickly overwhelm your little nook of storage. Our chemical storage warehouse buildings provide superior onsite protection while utilizing only a fraction of that traditional space at a reduced cost. Money saved in pesky, but required chemical storage can be reinvested back into product development and securing new clients. Despite their reduced size compared to behemoth warehouse facilities, our climate controlled hazmat warehouse storage lockers provide advancements in ease of access as a large roll-up door can be easily fitted to any side of the storage locker. You can easily use a forklift or hand-truck to retrieve and store dangerous and expensive chemicals when not in use.