Laboratories are intended to be safe and sterile workplaces. We most commonly associate labs with the medical field, and to a lesser extent, these self-contained environments are synonymous with many murder mystery shows, such as CSI.
It may come as no surprise to learn that chemical spills are a leading cause of injury in not just a laboratory setting, but in almost in any workplace. While completely preventable, improper handling of chemicals invariably ends in disaster.
The Top Five Chemicals resulting in injury
As the use of complex chemical compounds increases daily, so does the chance of these chemicals causing serious bodily harm. While we are the perceived masters of our industrial domain, we must adhere to the regulations in place to steadfast against accidents that can cause irreparable damage.
Due to the sheer volume of chemical incidents, the Centers for Disease Control has conducted extensive research to determine the leading chemical culprits. According to their detail report, carbon monoxide, ammonia, chlorine, hydrochloric acid and sulfuric acid are the top five chemicals associated with injury.
U.S. Hazmat Storage could've prevented lab spill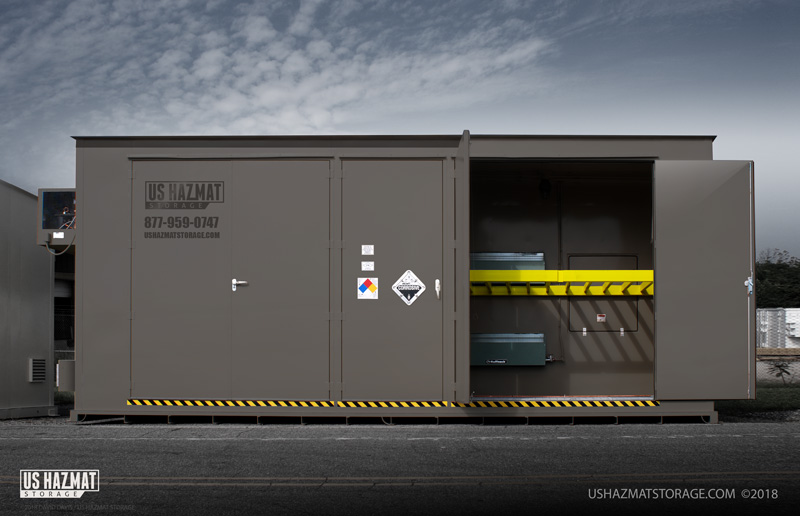 While these five common chemicals cause more harm in a workplace setting than any other compound, there are still hundreds of other solutions we should be cognizant of when it comes to proper chemical storage.
Recently, a group of Wisconsin technicians learned the value of respect in handling dangerous chemicals. According to a news report, lab employees at the Melvin Laird Center on the Clinic Campus were apparently distributing a liter of nitric acid into a container when a sudden chemical reaction occurred that resulted in the release of an orange-colored glass.
Accidents such as these could have been prevented by proper labeling these dangerous chemicals and storing them in a hazmat locker that provides separation protocol that isolates volatile compounds. A storage locker from U.S. Hazmat Storage would be the perfect solution to such an ordeal.
Non-fire rated building could save your company millions
US Hazmat Storage carries a full line of Non Fire-Rated Buildings for all of your industrial storage needs. Looking for an effective chemical & pesticide storage solution, designed for EPA compliance? You've found it. Our non fire-rated line of ChemSAFE™ storage is the standard for hazardous chemical storage and spill containment. When you need to store non-flammable chemicals like pesticides, herbicides, fertilizers, paints, or solvents, US Hazmat Storage can help.
Every model in our catalog of non fire-rated storage buildings is designed with ultimate EPA compliance and maximum spill containment in mind. Ask us how US Hazmat Storage can enable your company to safely meet its chemical storage needs.