Tornado Shelter and Community Storm Shelters
Premium steel community safe rooms are life-saving Tornado Shelters. These community shelters provide protection from severe weather for both small and large groups.
Our mobile BoxSAFE TX™ tornado shelters are designed for rapid deployment with various anchoring options, depending on your onsite conditions. These tornado shelters and community storm shelters can accommodate a small group of contractors to hundreds of people, customers, or employees with just a moment's notice. Constructed from heavy duty 1/4" solid plate steel, the BoxSAFE TX is customizable to your needs and meets all federal specifications. Shelters are certified by Texas Tech National Wind Institute in strict accordance to FEMA 320, FEMA 361, and ICC-500 standards for wind-rated impact of 250-mph-ground-speed tornado events.
BoxSAFE TX can be a vital investment for a variety of settings, including schools, churches, civic centers, transport centers, stadiums and sporting events, theme parks, malls, and more. If you are a work site project manager, you not only have to manage complex operations—part of any project is safety. Invest in a durable and vetted storm shelter or safe room that can also double as a heat-up or cool-down facility, with peace of mind having the benefits of full tornado shelter protection.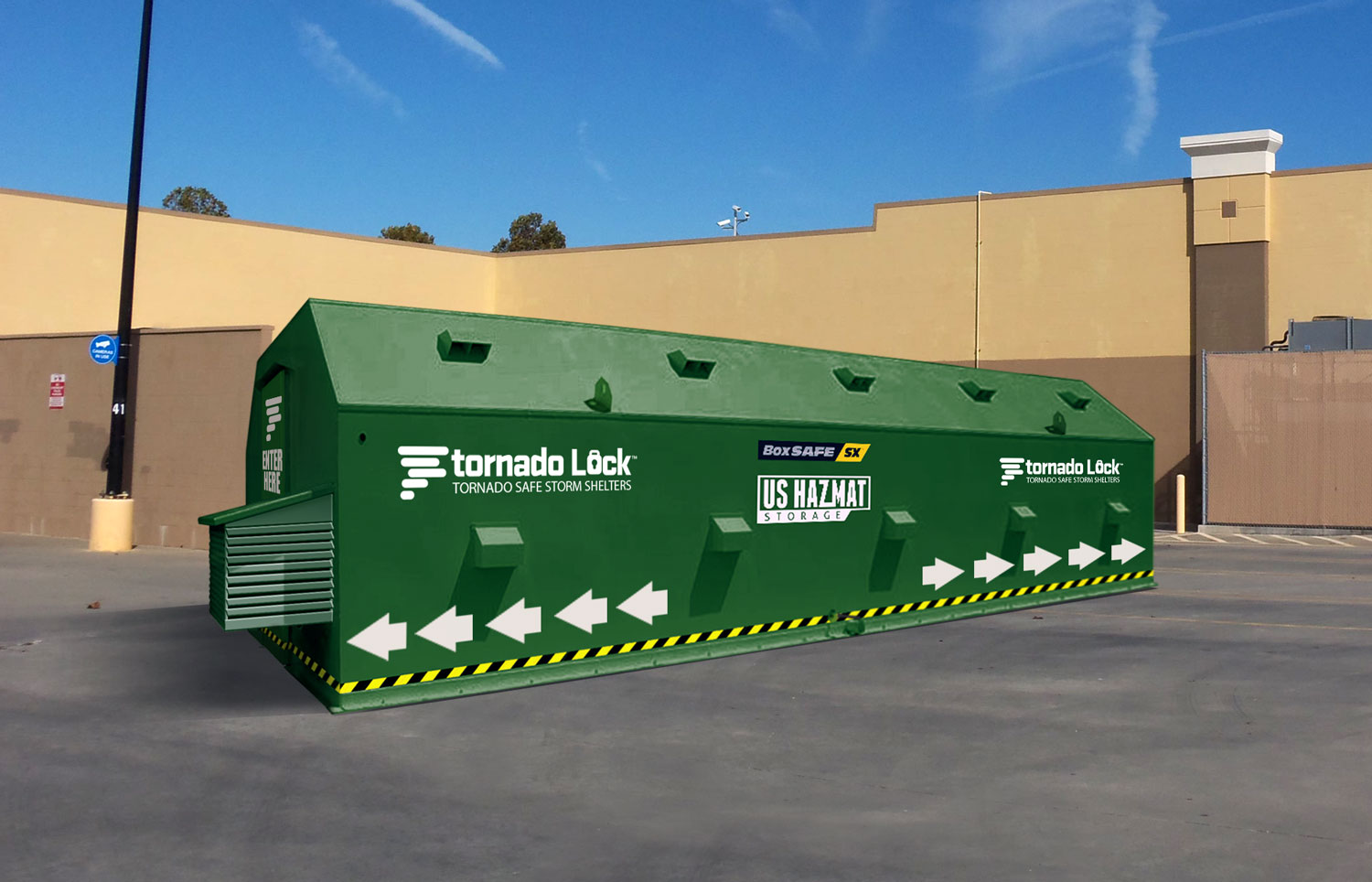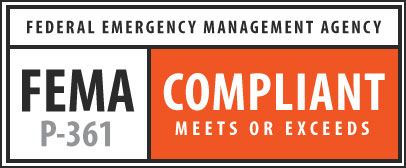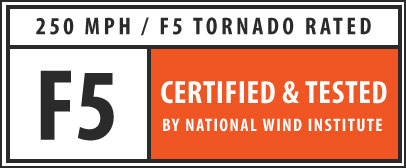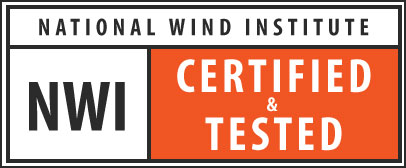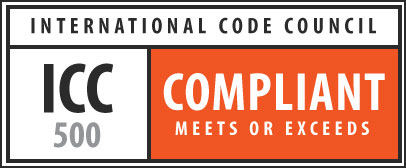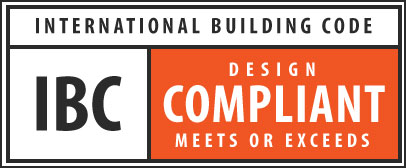 Common Applications and Industries
Commercial Security
Business Safety
Access Control
Data Storage
Server Rooms
Accounting Offices
High-Value Inventory
Schools
Churches
Civic Centers
Transport Centers
Stadiums and Sporting Events
Theme Parks
Malls
Design Features & Tornado Shelter Components
Rated for F5 Tornado / 250 MPH ground-speed impact by Texas Tech National Wind Institute
FEMA P-361, ICC 500, and IBC compliant
Solid 1/4" steel construction for lasting durability
Customizable for any number of people, with climate control options for comfort
Easy to install and transport
Durable corrosion, weather, and chemical-resistant interior and exterior coatings
Available electrical generator, explosion-proof lights, and fans
Additional options and accessories available
Ideal for Renovation, Demolition and Overhaul Projects
Above-ground, commercial-grade tornado shelter safe rooms designed for installation on concrete slab are ideal for contractors, companies, factories and large office campuses where no adequate shelter is present in the event of severe weather and tornadic activity. Our tornado shelters can be situated on any job-site.
Premier Safety & Security In Extreme Weather
Don't skimp on safety and protection. Your employees are your most valuable asset. Failure to properly protect your workforce can result in a catastrophic financial and emotional distress for any company, along with a relentless barrage of fees and lawsuits that can sink any business.
It's simple to prepare with US Hazmat Storage. Take the time to plan and invest in adequate protection for your workers, facilities and remote job-sites. Did you know that most tornadoes strike during the mid-afternoon? This is when most workforce personnel and job-sites are actively winding down operations which can increase risks.
Shifting Tornado Patterns
Meteorologists have now proven some of the most destructive and dangerous tornadoes are migrating to the southeastern US, moving further east of traditional tornado alley. This is where many year-round construction projects take place. As an environment health and safety (EH&S) administrator, project manager, facilities operator, or anyone who oversees operations and safety of workers, customers, and personnel—you owe it to yourself, your company, and your employees to ensure access to quality tornado shelter or community storm shelter offering safe protection when severe weather strikes.
Industrial Safe Rooms
The job-site can be an ongoing safety challenge. Dangers and risks can affect not only productivity, but also employee safety. Heavy equipment management, storage concerns, and external time pressures can intensify safety issues in a busy working environment. Add to that unwelcome visits from Mother Nature in the form of severe weather, including hurricane force winds and life-threatening tornadoes, and you will need the best possible protection for your employees.

Work Site Shelters
U.S. Hazmat Storage Emergency Worksite Shelters are air conditioned, heated, and are equipped with lighting. A floating floor system is ideal for telecommunication and IT wiring. Whether employed for protection from severe weather events on-site, or for project meetings, or as a cool down/warm up location for employees, our community shelters cater to your needs.

Contact US Hazmat Storage at 877-959-0747 for complete details, pricing, and storm and security shelter availability.